Liguria
Liguria made pesto popular, using basil, olive oil, Pecorino cheese and pine nuts. However, Ligurians use it not only in pastas, but in soups and rice dishes, too.
Try it in one of our favorite fettuccini dishes — Bay Scallop Pesto Pasta.
Bay Scallop Pesto Pasta
Prep time: 15 minutes
Cook time: 15 minutes
Serves: 4.
View recipe
Piedmont
Piedmont is the king of appetizers. Drinks are served alongside long, skinny breadsticks and fried potato and cheese croquettes. This region also grows hazelnuts, which is where the famous Nutella spread was born. (Thank you, Piedmont!)
Aosta Valley
In northern Italy, hearty foods with warm flavors are popular. People in Aosta Valley often serve warm soups or risotto, a slow cooked dish made with Arborio rice and Parmesan. Apple and pear desserts are also common in this area.
Try our recipe for Mushroom Asparagus Risotto
Mushroom Asparagus Risotto
Prep time: 1 hour 15 minutes
Cook time: 55 minutes
Serves: 6 (2/3 cup each).
View recipe
Lombardy
The region of Lombardy is similar to other Northern regions, which serve rice and polenta more often than pasta. They're also more likely to use butter and lard rather than olive oil, and softer cheeses are prefered over hard ones. Think Gorgonzola, Provolone, and Robiola.
Try our slow-cooked version of Creamy Polenta.
Creamy Polenta
Prep time: 5 minutes
Cook time: 2 hours 30 minutes
Serves: 14 (1/2 cup each)
View recipe
Trentino Alto Adige
While all regions of Italy eat some type of cured meat, Speck is most common in this region. This smoked, cured ham—a boned pork leg—is typically served on dense bread or by itself. As a main course, the meat is often plated over polenta, a cornmeal-based starch.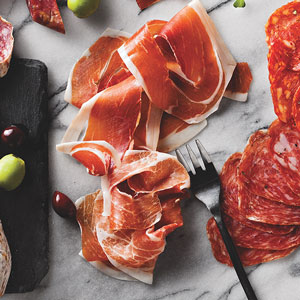 Veneto
You'll want to thank Veneto someday for making your favorite dessert: Tiramisu. The coffee-flavored custard dessert has layers of ladyfingers soaked in espresso, creamy custard, and cocoa powder. Veneto is also home to cured meats like Soppressata, which is a salami usually mixed with spices and garlic.
Never made Classic Tiramisu? Now's your chance.
Classic Tiramisu
Prep time: 15 minutes
Cook time: 2 hours
Serves: 6.
View recipe
Friuli Venezia Givlia
All regions make lasagna differently, but this one is the most unique. People here layer lasagna noodles, melted butter, and poppy seeds. It's also famous for a sweet cake ("Gubana") filled with dried fruit and walnuts, rolled up like a jelly roll and baked in a round pan. Other foods of interest are both sweet and savory strudels, including a familiar fall favorite, Apple Strudel with Nuts and Dried Fruit.
Apple with Walnuts and Dried Fruit Strudel Minis
Prep time: 25 minutes
Cook time: 25 minutes
Serves: 18.
View recipe
Emilia-Romagna
This is where a few of our favorite Italian ingredients come from: Parmigiano-Reggiano, Prosciutto di Parma, and Balsamic Vinegar from Modena. As for a traditional dish, you might be familiar with the meat-based Bolognese sauce.
Fettuccine Bolognese
Prep time: 40 minutes
Cook time: 2 hours 30 minutes
Serves: 6
View recipe
Marche
A cheese-flavored egg pasta is popular in Marche, and it's often eaten with pork and bean stew. Along the coast, fish and meat are considered interchangeable in stews and soups, making seafood stew a prevailing dish. In the hills, pork and chicken are more common. But those who have been there know the first thing you should try is one of the large deep-fried meat-stuffed olives. Or two.
In Marche, sausage is used in recipes more often than thin-cut cured meats, like prosciutto. Try this Sausage Zuppa Soup.
Sausage Zuppa Soup
Prep time: 15 minutes
Cook time: 15 minutes
Serves: 7 (1-1/4 cups each)
View recipe
Tuscany
Tuscany is known for its salt-less bread, which is so dense it's used to soak up spicy main dishes. It's also home to Chianti wine and the salad featuring chunks of toasted artisan bread, called Panzanella.
Panzanella
Prep time: 15 minutes
Cook time: 10 minutes
Serves: 12.
View recipe
Umbria
Located in the center of Italy, away from the coastline, Umbria relies less on seafood than other regions. Instead, they are celebrated for high-quality meats and locally grown lentils. Also popular is tagliatelle—a long, flat, wide pasta, similar to fettuccini—with meat sauce.
Ready for a taste of Umbria? Try this Smoked Ham and Lentil Soup recipe.
Smoked Ham and Lentil Soup
Prep time: 15 minutes
Cook time: 10 minutes
Serves: 12.
View recipe
Abruzzo
Ingredients local to Abruzzo include potatoes, legumes, and artichokes. Soups prepared with pork and seasonal vegetables are eaten throughout the region, as well as lamb-based dishes. And when it comes to seasoning, saffron is not uncommon, despite it's high value in a sometimes frugal area. Fish and seafood dishes are also enjoyed often, but they tend to be more complex than the pastoral meals.
Try this saffron-infused Mussel Linguini with Tomato Basil. The flavors may be complex, but the dish comes together in 30 minutes.
Mussel Linguine with Tomato and Basil
Prep time: 10 minutes
Cook time: 20 minutes
Serves: 8.
View recipe
Lazio
Egg-based sauces are popular in Lazio, including Amatriciana sauce—a combination of guanciale, Pecorino cheese, tomatoes, onions, and garlic—and Spaghetti Carbonara. Serve with a bruschetta appetizer for a dinner that will take you straight to Western Italy.
Bruschetta
Prep time: 20 minutes
Cook time: 15 minutes
Serves: 20
View recipe
Molise
This small region relies on sheep for much of its cuisine, including sheep's milk used for cheeses, such as Pecorino. Along the coast, seafood such as anchovies, shellfish, octopus, and sea snails are incorporated into local dishes. And for dessert, aromatic olive oil is used to prepare traditional treats.
Puglia
Known for the ear-shaped pasta called orecchiette (meaning little ears) and a fresh cheese made from Mozzarella and cream, called Burrata, Puglia is home to a variety of vegetarian delights. It's also one of the largest producers of extra virgin olive oil.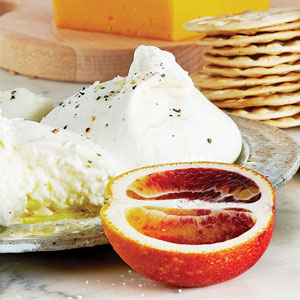 Campania
Home to the Neapolitan Pizza in Naples and Buffalo Mozzarella, there's only one thing to do when planning a dish from this region: make Pizza Margherita Extra (the Extra means drizzled with extra virgin olive oil).
Did you know there are certifications available—established by the Associazione Verace Pizza Napolentana (AVPN)—to ensure the authenticity of Neapolitan pizza? Requirements include the type of flour used in the dough, the type of tomatoes (San Marzano), the type of Mozzarella, how long the pizza was baked (no more than 90 seconds), and how hot the stone oven was (800°F, minimum).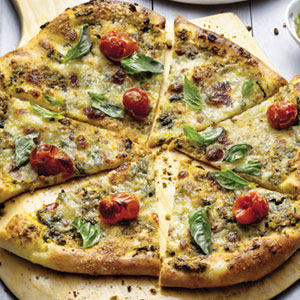 Basilicata
Despite the region's name, basil is not from here. (It's not even from Italy.) Instead, this area is known for using peperoncinis in many dishes—yes, the peppers you find on the side of your salad bowl. Basilicata is also known for lagane, a wide-noodle pasta dish that contains chickpeas. The simplified version is to saute garlic in olive oil, then toss the oil with cooked chickpeas, noodles, and salt and pepper to taste.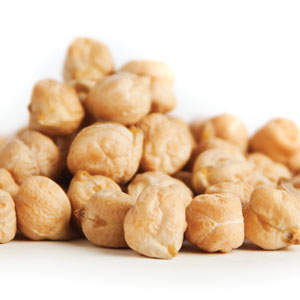 Calabria
Eggplants, pastas, and ricotta are staples to the Calabria region, and many dishes are prepared with a hit of chili pepper, as are the cured meats, such as spicy Soppressata and Nduja—a spreadable spicy pork product.
Eggplants are in peak season July through October. Try them in these Caprese-Style Eggplant Stacks.
Caprese-Style Eggplant Stacks
Prep time: 10 minutes
Cook time: 20 minutes
Serves: 2.
View recipe
Sicily
Meatballs, spicy sauces, some of the best blood oranges on Earth, and Veal Marsala are all popular in Sicily. But perhaps we love this region more for giving us the cannoli.
Sardinia
Surrounded by water, it's no surprise that shrimp, squid, and mussels are in a variety of dishes and stews. While the regional cuisine includes uniquely-shaped pastas such as culingiones (similar to ravioli), you'll also find the more familiar pastas, like spaghetti.
Get the recipe for Roasted Garlic and Herb Shrimp with Spaghetti.
Roasted Garlic and Herb Shrimp with Spaghetti
Prep time: 20 minutes
Cook time: 15 minutes
Serves: 4 (2-1/2 cups each).
View recipe